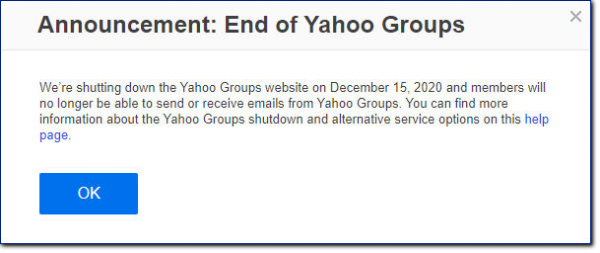 https://help.yahoo.com/kb/groups/SLN35505.html?impressions=true
Yahoogroups has announced that their service will be closing down completely on December 15, 2020. From that date on, there will be no more messages sent to you via YahooGroups, it will be gone forever.
Luckily, Minutus has already been migrated to this forum and a few things will be changing here in the next few weeks. Please read this message as it is important to your future membership of this group.
The Forums.Group platform will be officially open for other groups to join within days, as soon as final tests are complete. We will then be inviting all groups still active on YahooGroups to come over to our new platform. 
We know that the members list on the forum is not entirely complete and that will be fixed very soon. If you want to continue receiving messages via email, you will need to have an account on the forum so keep watching for further announcements about that.
The biggest change is that we are finally implementing the ability to post and receive messages via email. It will be similar to how it worked on YahooGroups, yet with minor changes to take account of categories that the forum has. Our Polish programmer has told me he has almost completed the work on this feature and it will be tested and fine tuned before going fully operational.
The most important thing to remember is that when you are replying to a topic, do not change the subject line as that is how the message is assigned to the correct topic. When creating new topics, it will be important to format the subject line correctly so that the post is assigned the correct category. Falsely assigned subject lines, or emails not sent from your registered email address, will be automatically rejected.
More details will be given when the feature has been released. Do not worry, if you are replying to a topic, you do not have to do anything unusual, just reply and send. 
It will of course still be possible and desirable to post on the forum itself, as then you have the full range of features like online videos, etc.
In future, you will be able to individually decide if you want individual emails sent to you, a digest, just notifications when someone replied to a topic you have subscribed to or no emails at all (read online). If anyone makes the mistake of marking our emails as spam with their internet provider, their account will be automatically banned and no more messages will be sent. It will be up to your moderator to reinstate such accounts if the user had made a genuine error. We have to do this as reporting emails as spam results in all our emails being downgraded and possibly everyone will cease to receive emails until the issue has been resolved with the provider.
Distribution of messages via YahooGroups and probably groups.io will cease as everything moves to distribution via the forum, only. This is the only way we can get everything to work properly with replies via email - a feature you guys have obviously been missing.
Changes are coming and everything will be fully operational before December 15, 2020 when we say goodbye to YahooGroups.
You can learn more about the Forums.Group platform on the official website:
https://forums.group
Your moderator will have to learn how this all works because as the forums.group platform expands, I will no longer have time to be your moderator. 
If he does not feel up to the job, then you will need to find someone to help out - anyone interested?
Regards
Peter